There are many decisions to make when it comes to betting. Which horse or match do you bet on? Who is going to come out on top and what are the odds of your bet coming in?
However, what about deciding what bet to make? There seem to be so many to choose from which is why we are going to help you understand more about a Yankee and a lucky 15. 
NOTE: With both of these bets, depending on the odds, you can still pick winners and make a loss. 
When you hear the terms, you might not have an idea of what they mean, what they relate to or how they work which is why we are going to make sure that you understand all there is to know about it.
What is a Yankee Bet?
If you have four separate events that you want to back and you think that they all have a chance of winning, then you can take advantage of a Yankee bet. This is made up of 11 bets and is an easy way of placing several bets to ensure that you have a bigger payout if any two, three or four of the wins come in. It is an ideal bet for backing a range of selections that might come at a shorter price if considered individually. Then, when you place your bet, if they come in, you will get a good return.
So, the bets that form a Yankee are made up of six double bets, four treble bets and one four-pronged accumulator. This example is taken from the Betway app. 
As all four are likely to come in, this type of bet does not consider singles and so, it looks at your staking power on multiple bets that are more profitable. If you want to check this out before placing your bets then try a bet calculator app and see what the returns are depending on the results. 
What is a Lucky 15 Bet?
When you choose a lucky 15 bet, all you need is one selection to win in order to get a return. So, as the name suggests, a lucky 15 bet consists of 15 bets. If you have four selections that cover different events, you might feel that all of them win which means that a lucky 15 bet will cover all the possible combinations which include doubles, trebles and four-fold. This also provides the insurance of four singles should only one selection come in.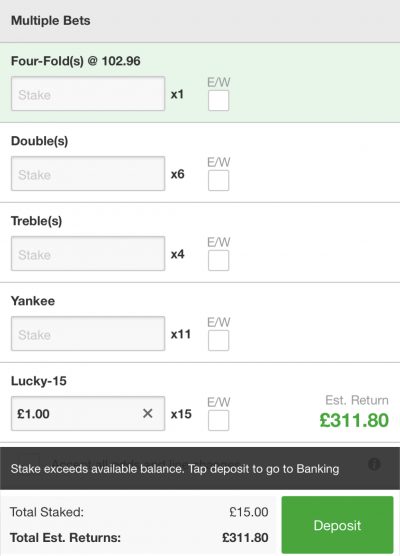 The Difference Between a Lucky 15 and a Yankee
A Yankee bet includes a total of 11 different bets but a Lucky 15 goes one step further and provides full coverage. What this means is that a Yankee will be made up of six doubles, four trebles and one four-fold but it does not include the four singles, as a result, if you were to stake £1 on a Yankee, it would cost £11.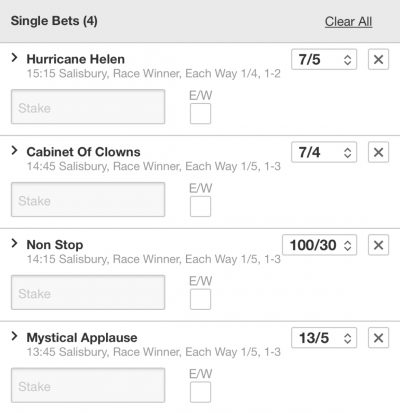 In contrast to this, the lucky 15 bet covers it all but if you have four selections that have short odds, then you might be better off choosing a Yankee as this might provide a better multiple than a lucky 15. This is because the returns of the individual singles might not be that high.
If you are looking to place a bet on a Yankee or lucky 15 then check out our guide on the best betting apps here. 
If you have any questions, join us on Twitter @bet-share where we will be happy to answer any of them. 
Other Content You May Like