Which is the best horse racing odds calculator? We get asked this question all the time, and our response is always the same; the AceOdds bet calculator. The AceOdds app is available for Android, iOS, mobile and tablet devices too. It is great for anyone that places bets using mobile and want's to quickly work out the returns on a bet.
Horse Betting Calculator
AceOdds betting calculator is by far the best odds converter tool on the market to date. Its simple layout makes using the app incredibly easy to use and navigate around, as you'll find out if you choose to download this odds converter tool.
Although the majority of people that use this odds converter tool, use it for horse racing tips and bets bets, it works just as well for football acca's and other sports bets too.
Horse Racing Odds Calculator – Guide
Using the calculator to workout bets – Working out how much return you'll get on a bet is simple as we're going to explain now. Take a look below, you'll notice a sequence of images highlighting each step to take in order to calculate winnings.
1 – You need to select the type of bet you placed. For example, single, double, treble, 4 fold etc.
2 – You need to indicate if you placed it as an each-way bet or a straight win.
3 – How many selections are included in the bet, for example, if it was placed as a treble, the number of selections would be 3.
4 – How do you want to display the odds. Do you prefer odds displayed as decimals (2.00) or fractions (2/1)?
5 – Input odds and selections into the boxes provided as highlighted in the images.
6 – Finally, you'll need to input your stake (amount bet).
Once you have placed the correct details in the relevant boxes, the AceOdds bet calculator will display your winnings. It's as simple as that, brilliant right?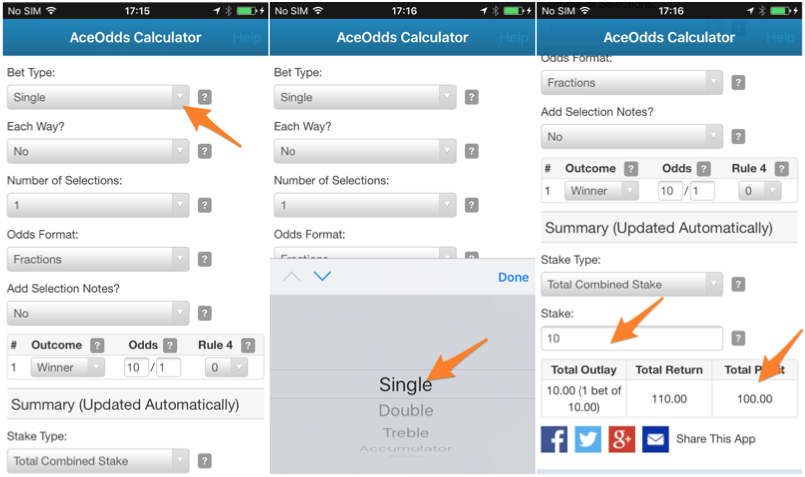 Calculate Any Bet
The AceOdds bet calculator is great for singles, doubles and trebles. However it's when you start placing more complicated bets, is when begin to see its true worth. Other bets you might want to use this app for are as follows;
Single, Each Way, Double, Treble, Accumulator, Trixie, Patent, Yankee, Canadian, Heinz, Super Heinz, Goliath, Lucky 15, Lucky 31, Lucky 63, Alphabet, Round Robin, Flag, Super Flag & more.
AceOdds App Download
Wondering how you can download the AceOdds app for Android & iOS? All you need to do is select the link which is relevant to your device. Download AceOdds for Android or iPhone.
Hopefully, this post has helped you in your search to find the best mobile horse racing odds calculator. You might also be interested in the post displayed below. Stay up-to-date with future updates by following us on Twitter.