18+ only, commercial content
There are a number of free football betting competitions on offer from the UK's major bookmakers. We've rounded them up for you so you can play them all and see if you can win! All of them do need you to have a registered betting account with them in order to enter. You must be 18 or over to enter and win.  
William Hill is offering one of the latest free football betting competitions to be released in their FREE OR 4 offering. Registered users get to select 6 games from a select list that they think will finish with either three or four goals in it. ie matches that finish 3-0, 0-3, 4-0, 0-4, 2-1, 1-2, 3-1, 1-3 or 2-2. A unique game on the market and one I enjoy entering.
Prizes are awarded to those entrants that correctly predict 4 or more selections, as follows:
4 correct – £1 free bet awarded
5 correct – £5 free bet awarded
6 correct £200 in free bets awarded.
You can edit your selections once they have been submitted, in case you change your mind. There's also a lucky dip option if you don't have the time to research the games. It's well worth entering if you have a William Hill account. 

Ladbrokes offer a weekly free game, whereby users have to attempt to correctly predict three specific score lines from televised football matches. The games are set by Ladbrokes and usually include weekend fixtures that occur after the Saturday 3 pm kickoffs. However, this is not always the case. It is worthwhile checking in on Ladbrokes mid-week to see if there is a competition being offered – especially on European weeks and international breaks. A maximum prize of £100 in cash is up for grabs to those who correctly predict all three results. The prize breakdown is as follows
3 Correct results – £100 in cash 2 Correct results – £5 free bet 1 Correct result – £1 free bet
I am yet to achieve the £100 top prize personally but have frequently picked up some free bets by correctly predicting one or two.
The game is free to play. All that is required is a registered account with Ladbrokes. If you haven't already get one, you can get straight there from the button below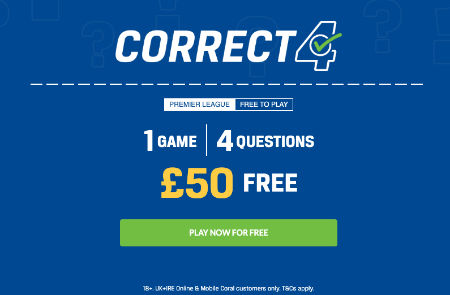 Coral is offering a free game with a maximum prize of £50 cash for correctly answering 4 questions about a weekend Premier League fixture – usually the Saturday 5:30 pm game.
It's not a huge amount but £50 is still £50 to those who manage to successfully answer all four questions.
Prizes are also awarded to those who manage to answer 2 or more;
4 correct answers – £50 cash
3 correct answers – £2 free bet
2 correct answers – £1 free bet
Questions normally relate to key metrics of the game and related stats are provided alongside each question to provide a more informed choice. For Example;
What will the match result be?
How many shots on target will there be?
How many corners will there be?
How many cards will there be?
Players are also aided by the fact the questions are multiple-choice with only 4 possible answers to choose from. This gives players a 25% chance of being correct on each answer.

Betway gives registered users a completely free game that gives them the chance to walk away with up to £250,000. With such a lot of money up for grabs, it's safe to say the game isn't easy but is still fun to get involved in.
A no-nonsense game here whereby players have to correctly predict the four first goal scorers in set games from the Premier League or international matches. The jackpot is set at £25,000 and if there is no winner, there is no prize. 
The £25,000 is then rolled over into the next week and will continue to roll over (as long as there are no winners) up to a maximum jackpot of £250,000. No second places, no consolation prizes – it's all or nothing. 
You can do all the research and get your head buried into the stats to make informed selections or for those who just want to get involved and lack any real knowledge, there's a handy random selector button that will generate selections for you.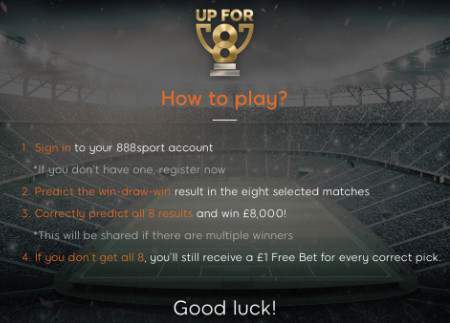 A newly launched free game from 888Sport. This brand loves the number 8, so it's no real surprise that it is heavily featured here.
Correctly predict the outcome (win/draw/win) in 8 chosen matches and you're in for the share of the £8,000 prize. Be the only person to correctly predict all 8 in that particular round and scoop up the lot!
A nice little consolation prize to those who don't correctly predict all eight is a free £1 bet for every correct prediction made. New players get 2 weeks with no requirements of receiving in relation to receiving the £1 free bets. After 2 weeks of playing, £25 worth of bets needs to be placed throughout the week in order for you to successfully receive any future free £1 bets from this game. It's worth checking out if you haven't already.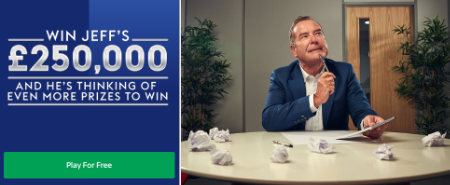 This game is probably the most well know out of all of the current available free betting games. No surprises really seeing as though users have the chance to win up to one million pounds in prize funds. The jackpot is usually set at £250,000, but has been upped on many an occasion to a 7 figure sum.
Another simple game that requires nothing more than players predicting six set matches. The game is usually played on the Saturday Premier League kick offs but also features across European nights, Championship matches and Cup fixtures.
Anyone lucky enough to correctly predict all six games qualifies for a share in the jackpot. If there is only one winner the individual scoops the lot – If there are multiple winners, the jackpot is shared.
A scoring system is used in order to rank players in a leaderboard. Players are awarded 2 points for a correct result (but incorrect score line) and 5 points for a correct score line. 30 points is needed for the jackpot but if that is not achieved that week by anybody, the highest points player receives a £5,000 consolation prize.
A Tiebreak question is required to be answered at the same time as the six score predictions. The question is "when will the first goal be scored? (From the six games being predicted on). Players need to select a specific minute to answer this.
In the event of a tied top score with nobody correctly predicting all six results the tiebreak question then comes in to play. Whoever was closest to the actual time of the first goal takes the £5000 prize. If two or more top scoring players predict the same minute, the £5000 prize is then shared between those players.
Although there are some life-changing amounts of money on offer here, I have never personally won a single penny from this game. 
Other games mentioned on this page have much higher success rates in terms of actually achieving a tangible benefit from them. However, the thought of winning the amount of cash on offer keeps me coming back to play whenever this free betting competition is made available.
A brand new game has been launched by Skybet that is attached the Super 6 app, called Super 6 Extra. Answer 6 questions based upon one Sunday fixture and be in with a chance of winning another large cash amount. The game can be found beneath the standard Super 6 game. Look out for the banner shown above or one of a similar nature. 
Latest Posts From Our Betting Blog