Familiarising yourself with the world of betting is important if you are going to give yourself the best chance of winning big. It might seem as though there are countless terms and different bets to get your head around but it isn't as difficult as you might think. In this guide, we are going to cover a Super Yankee bet. You might have heard of a Yankee bet but what is a Super Yankee bet? In this guide, we are going to help you understand more about this bet and offer some top tips for selecting a Super Yankee bet.
The super yankee is often referred to as a Canadian bet – these are the same thing. Here is how it looks in the bet slip on Betway, where it is known as a Canadian.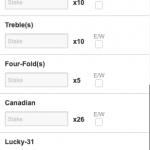 What is a Super Yankee Bet?
A Super Yankee Bet comprises a total of 26 bets that are made over five different selections. As a result, it consists of ten doubles, ten trebles, four five-fold accumulators and one five-fold accumulator. You will need to bet a higher stake than a standard accumulator but you are likely to see a higher return should your bet come in.
So, if you were to stake £1 on a win-only bet, you would have to place a £1 take on each bet which means that it would cost a total of £26. There are no single bets included in a Super Yank but you must have two of your selections of the five must come in as a win in order for you to see any return.
Why Should You Make a Super Yankee Bet?
If you want to bet on a multiple that comes with a higher chance of winning then a Super Yankee bet is the ideal option. With an accumulator, if one selection does not win then the accumulator is lost. If you believe that the majority of your selections will come in then a  Super Yankee will increase your chances of seeing a return on your stake.
Tips For Making a Super Yankee Bet
Super Yankee bets make it possible to place multiple bets across a number of sports which might include football and horse racing as well as other sports. If we focus on Football, then we can give you an idea of how it works.
If we take these five games:
Manchester United to beat Chelsea
Watford to beat Tottenham Hotspur
Wolves to beat Newcastle
Arsenal to beat Brentford
Everton to beat Liverpool
These matches will be split into ten doubles so Manchester United and Everton to win will be made up as one double. The other potential option for doubles will then make up the remaining doubles. The same will stand true for trebles as a Super Yankee contains ten of them. Then the bet also consists of 5 four-fold accumulators and one five-fold accumulator.
To win, you will need to make sure that two selections are highly likely to come in and you could make a profit if only two or three of your selections come in but the odds will need to be high if you are to see a good return, so make sure you find the best odds.