BetShare is a free service, designed to bring you winning bets every day of the week.
We have a team of tipsters who provide their hot picks on a daily basis. They do the hard work so you don't have to!
BetShare is Secure
We won't share your information with any third parties without your permission.
Feel supported
Along with the team at BetShare who are on hand with advice and support most of the time, we have a network of tipsters there to answer your questions and to help with your bets.
Mobile friendly
You can access BetShare from anywhere at any time. Our new mobile friendly website means that whenever you have an internet connection you can access BetShare, whether it is using a mobile phone, a tablet or a desktop computer.
Win Money (sometimes)
Everything we do is geared towards beating the bookies - but whatever the outcome we are in this together!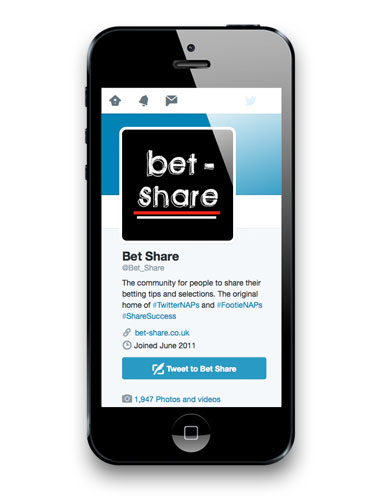 How we do it
We run three dedicated services – TwitterNAPs, FootieNAPs and now PuntersNAPs – for fans of horse racing, football and general sporting tips respectively.
Each brings together some of Twitter's best tipsters, sharing their winners and ranking their monthly performances, making it easy for you to see who is in form and who is the most consistent.
Twenty or so of the country's best tipsters
Compare their tipping form
See how they've done in past months
See what they're tipping today
Use their tips to win money!
BetShare, as our name suggests, is also a community for all punters. Got a hot tip, a piece of vital insider information or a new system that can't fail? Share it through @Bet_Share on our Twitter feed. Simple, immediate and effective. It's what we are all about.
40k
Twitter followers
---
And growing every day!
1000s
of successful tips to date
---
And growing...most days.
400
combined years tipping experience
---
Unless the tipsters have lied about their ages.
1
original home of #TwitterNAPs and #FootieNAPs
---
The original. And still the best.