Key Features Of The Bet Calculator App
Best for
Calculating potential winnings from many types of bets.
Racing related
A very handy tool when placing Trixies, Patents and Yankees
App Details
Available on Google Play Store & Apple App Store.
The horse racing betting calculator app is a great little app that is free to install on Android and iOS devices. It will allow you to calculate all bets, help you keep tabs on what you've staked, and even calculate your returns. The app has no betting function.
The developer is very supportive of its app and rightly so, as it can even arrange complicated bets like Lucky 15s. Although there are many popular betting calculator apps, they do come with their limitations.However, the Bet Calculator app has aimed to address these shortcomings.
Example of the Genius of The Horse Racing Betting Calculator App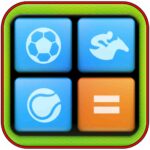 You have to imagine the scenario. You walk into a betting shop planning to stake £50 on several races. You end up with a betting slip on race 1 containing a £25 win on Likely Lad at 2/1 and a £20 win on Definite Prospect, while race 2 is a £2.50 each way on Big Outsider at 30/1.
A traditional betting calculator would force you to enter and exit the app several times in order to complete the calculations, especially if you placed two different bets on the same selection. This genius app allows you to have a variety of selections within the same bet.
Although the app is not one of the free apps available through iTunes, it will save you heaps of time in making your own notes of the bets, stakes, and returns. If you attend a day at the races and place your bets, add them to the app, and the app will do all of the calculations for you.
Advantages of the Betting Calculator App
The iPhone screenshots provided on the iTunes preview page highlight that this app is extremely easy to navigate. Simply add your selections and the genius app will list the total stakes and potential returns. If you're a winner it'll place 'won' beneath the selection.
It's only a basic app so don't expect too much colour and dashing extras, but this app does exactly what you would expect to do. If you're dissatisfied with a particular bet there is always an option to delete it. The horse racing betting calculator app allows you to combine decimal and fractional odds. Add the amount of your stake, the odds, the odds type (SP/fractional/decimal), bet type (win or each way), and the place odds (1/2 / 1/3 / 1/4 / 1/5). This betting calculator app allows an array of selections, plus you can place more than one bet on a selection.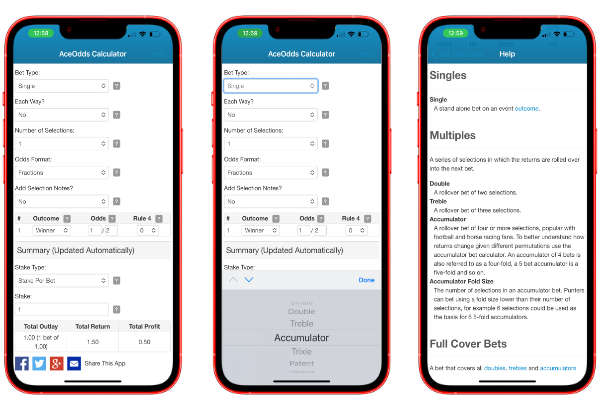 It's worthwhile to note that this app does include mild simulated gambling so it's only suitable for users aged 18 and over. The size of this app is also tiny at only 4.7 MB. Another benefit here is the high speed in which the user can calculate odds.
The other free betting calculators do not work in the same way as this app, as you may have to constantly log in and log out to check on several bets within the same selection. There is no registration or log in required here.
If you want to save time on an app that allows you to include all bets while calculating your stakes and returns, you'll love the horse racing betting calculator app.
The app was released in May 2011 and has received a fair few updates since this date. It's compatible with any software of iOS 9.0 or newer for iPhone users and Android 4.0 for those with Android devices.
It's free to download and a worthwhile app to have if you're an ardent horse racing fan. Download it onto your device through the iTunes store.