you might find yourself confused with the different terms that you have come across. It is fair to say that initially, there is a lot to take in but the good news is that not everything is as confusing as it might seem. There are many terms to learn about but we are going to help you understand all about Treble bets and Trixie bets.
What is a Treble Bet?
If you're wondering what a treble bet is then it is an accumulator that combines three bets into one. This means that you don't have to place three individual bets. However, you have to remember that the bets you place have to be on three different sporting events. Here is how it looks in the bet slip on the bet365 app – One of our recommended betting apps.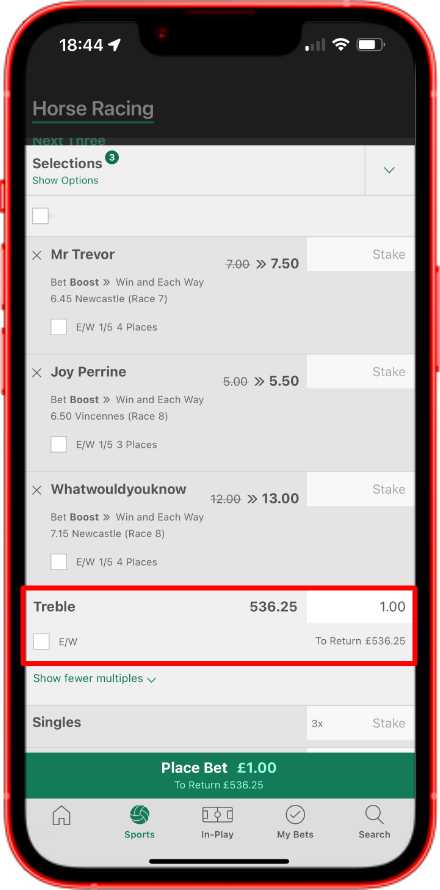 So, if the first bet comes in, then the returns from that are then rolled onto the second bet and are then used as the stake for that. Should the second bet be successful, the returns from that will then be used as the stake for the third bet.
Furthermore, you don't have to bet on the same sport which means that you can mix and match. So, you can bet on two football matches and the Cheltenham Gold Cup winner or you can bet on the outcome of a tennis match, a rugby match and the horse to win the Grand National.
However, what you need to remember is that a treble is always placed on separate sporting events which means that you cannot bet on who will finish first, second and third in the same event as this is known as a tricast bet.
So, all of your selections will have to differ from each other and they must all win if you are to receive a payout. Obviously, when you place a treble bet, you can get higher odds than if you had bet on each even separately.
What is a Trixie Bet?
A Trixie bet involves placing four bets on three different selections, all of which are then combined into one. It is mainly used in horse racing although it can be used across many different sports.
Unlike an accumulator where every bet has to come in for you to win, a Trixie bet will give you a return even if your selection fails. It is known as a cover bet as it provides a kind of insurance against one of your selections failing. The amount you win will depend on the selection and the odds. As a Trixie bet does not contain any single bets, it means that two of the selections have to win in order for you to see a return.
Here is how it looks in the bet slip –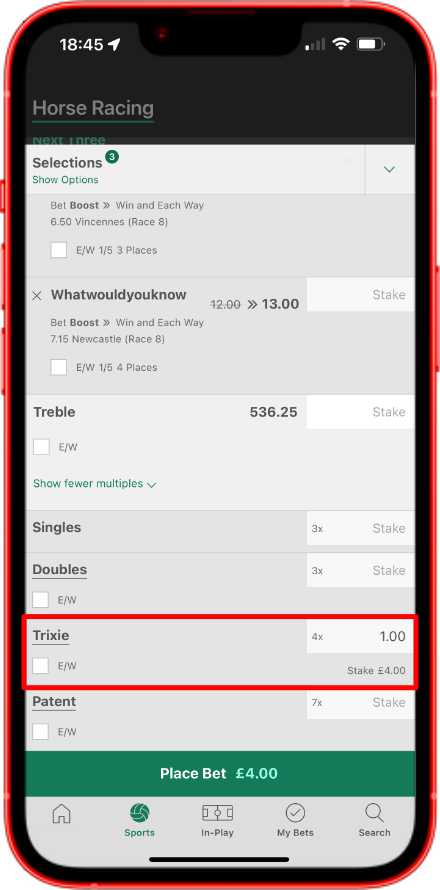 It is not possible to bet on a number of outcomes in the same event and you cannot bet across multiple sports. The amount you bet is always four times you choose to bet because of the three doubles and single treble that you place.
So, now you know the difference between the two, you can try something different and increase your chances of winning.
Other horse racing content you may like