A day at the races is an experience that is truly unique and memorable but if you are planning to go, then it can help to understand what to expect and how to plan it accordingly. When you plan everything correctly, you can ensure that you have the best possible experience from start to finish!
Get Your Tickets
It is always recommended to book in advance as this will avoid disappointment on the day should you try and pay at the gate. Furthermore, you might also be able to take advantage of discounts if you book in advance. The price of tickets will depend on which enclosure you plan to use and whether you will be a casual spectator or want to take advantage of a package.
For the major events, like the Cheltenham Festival, it is best to book your tickets as early as possible. Some of the enclosures fill up quickly, especially the cheaper tickets. 
Where to buy tickets? The Jockey Club is the best place for most race courses. You can view all the upcoming events and access information on all of the courses. 
Latest events: thejockeyclub.co.uk/events-tickets/
Find Where To Park
In the same way as the tickets, it can help to book parking in advance if possible. It can become very busy and the last thing you want is to spend your time driving around trying to find parking. Along with this, you will also be able to book parking that is closer to the racecourse, giving you a shorter walk. As you can see below from the Cheltenham map there is a lot of parking to pick from!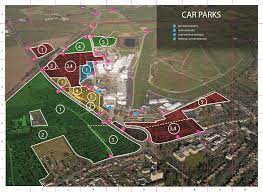 This again is key if you're going to a major event – do not turn up and hope to park. You can usually find parking on the way to the course for cash but it is usually a long walk from there. You'll find people near Aintree and Cheltenham renting their drives out for the major festivals. If you are parking there make sure they don't block you in our you could be stuck waiting for others to come back to their cars. 
Get Your Bets On!
Betting is a big part of the horse racing experience but if this is your first time, then it can help to understand how it works. Learn about the odds and how the bookmakers work beforehand as this will enable you to get started when you arrive. You can choose to bet with an on-course book maker that is located by the race track. if you prefer simplicity you can use most UK betting apps while on the course too. 
As with anything like this, it makes sense to set yourself a limit because you don't want to lose all of your money. The aim is to remember that it is a day of fun and excitement which is not just about betting. If you want to take things slightly more seriously, then you can see what horses are running and read their recent race form, this will add an element of excitement to the experience of betting.
Where to eat?
Food is always an important consideration and you can be sure that you won't go hungry as there is always food available. One thing to remember is that most racecourses won't allow you to take your own food. You will need to plan in advance if this is the case but there are some racecourses that will, so it is always worth checking.
You will find the usual food there such as burger vans and such but there will be plenty of options. If you want more of a formal experience then you could always book a ticket that includes food as part of a package, giving you the chance to have a sit-down meal.
Horse Racing Spectators Dress Code
The dress code is always a big thing when it comes to the races. Once again, there might be a dress code in place. If so, you will need to find out what it is but often, the dress code is formal. You would expect to have to wear a suit or something similar while women will be expected to wear dresses and hats in some instances. You can read our full guide to appropriate racecourse etiquette here.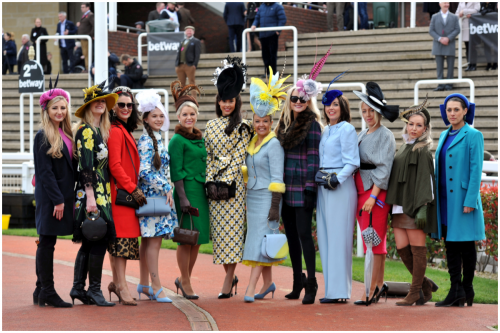 So, a day at the races is an experience like no other but with some simple planning in advance, you can turn up and make sure you enjoy every single second!
See our racecourse guides here