Race Days are extremely exciting but what really adds to the excitement is the racecourse bookmakers. They take the excitement to a whole new level but to many, the thought of approaching them and placing a bet can seem daunting. However, it doesn't have to be that easy as we have created a useful guide that can help you get the most from your experience.
Placing Your First On Course Bet
Fortunately, it is easier than you might think and all it requires is for you to select a horse and its number and then the amount you want to bet, as well as the type of bet you want to make.
The options available to you are for your chosen horse to win the race and each way. Each way is also another option, so you might think the horse will win but there is a chance they might finish second or third and so, this option helps you to increase your chances of winning. So, if you place a £2 bet each way, you will need to pay £4 but if the horse wins, you will be given your winnings as well as your full bet back.
If the horse finishes in the placings, you won't get anything for your win bet and will lose part of your stake but your place bet has been won and so, you will receive part of your stake back. Depending on the odds there is a chance that you will get back less than you put on making a loss. 
Placing The Bet
So, once you have chosen your bookmaker at the course based on the odds they are offering, you can then put a certain amount on a horse. Give them your money and your horse number and they will give you a printed slip of paper with your bet on it and you will need to keep this in case your horse wins.
Betting on horses is based on probability and this means that it can help if you have an understanding of reading horse racing form, fitness, the jockey and the going. As a result, the racecourse bookmakers will manage the odds for each race and you will be able to see the odds on the boards.
Inside The Betting Ring
The betting ring is where you will find all of the bookmakers located and this will be a hive of activity. They will have display boards and these will give you the odds for the next race and once you place your bet, your slip will display what you could win. Here is the, very busy, betting ring at Cheltenham racecourse.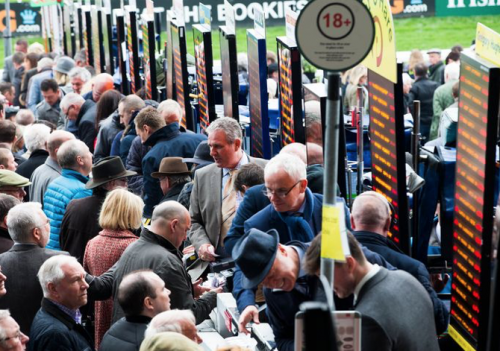 However, it is not just a case of using any bookmaker because it helps to shop around. If you have a horse in mind that you want to bet on, then have a look around to see which bookmaker is offering the best odds.
There is a chance that the odds might improve at the last minute, so you could leave it till then. In contrast to this, it can also help to remember that odds can decline or shorten if you leave it until the last minute.
Whatever happens, make sure you enjoy the day, only bet what you can afford and with a bit of luck, your horse will win!
If you still feel unsure of using an on-course bookmaker it can be simpler to use a betting app on your phone if you prefer. At the track, we love to use the on-course bookies as it is all part of the experience of a day at the races for us.