Betting on horse racing is an exciting experience and there are a number of options available when it comes to betting. However, one type of betting that punters take advantage of is in running betting.
Many people choose to look at the form of a horse prior to each race in order to make a decision on whether to place a bet or not. It is possible to consider in-running betting when you are watching the race and this means that you can place a bet on a horse after the race has started. With this in mind, it can still help to understand how a horse has been performing and how it reacts under pressure when compared to other horses in the race. So, if you are considering in running betting then there are different types of bet to look at.
Here's how an in-running market looks on Betfair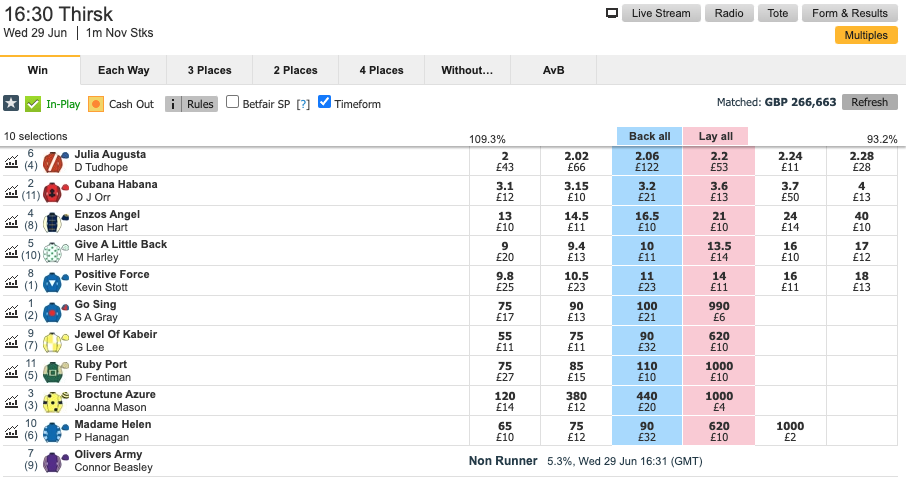 Back to Lay – If you choose to use this method then this will involve backing a horse before the race and then laying it in running at lower odds to guarantee a profit. This is considered the safer option when betting on horses that travel well or those horses that race prominently.
Lay to Back – This option involves laying prior to the race and then backing the horse at higher odds in running in order to guarantee a profit. This is an ideal option for those horses that are known to start slow or horses that need a lot of work from the saddle in order to do well. It is worth understanding that this option can come with higher liabilities should the bet not be matched in running.
In-running Back – When a punter thinks that a horse has a good chance of winning, thinks that it might be possible to bet on the horse at bigger odds during the early phase of the race or they want to see how the race starts during the early stages, this is a strategy that can be used. This is particularly useful in instances where a horse that is racing is known to refuse to race.
In-Running Lay – This option is a good method to adopt when you want to prom horses that have a lot of promise yet fail to deliver. Therefore, they regularly trade at low odds in running although they get beaten. However, this is a bet that can be placed before the race and then kept in play, so if the horse meets the required odds, the lay bet will be struck.
There are many advantages that come with this type of betting and this can include getting a bigger price on your selection in running than you would have prior to the race. Along with this, you can also judge how the horse is travelling or jumping. So, in-running betting is an exciting form of betting that enables you to determine how horses are performing during the race. This makes it possible for you to make a choice on the horse you want to back after the race has started.