The ITV Racing App is an innovative and handy companion for horse racing enthusiasts, designed by the British television network, ITV. This app ensures fans remain engaged in all aspects of the sport, from watching live races to exclusive interviews and behind-the-scenes content. As we dive into this review, we will assess the essential features and offerings of this app that makes it an indispensable tool on race days.
As a one-stop source for all the latest racing news, ITV Racing App functions as a comprehensive guide providing racecards, results and much more information about UK horse racing events. In addition to this, users can participate in interactive elements such as polls and quizzes to test their knowledge as well as engage in lively discussions with fellow racers and fans.
One highlight that sets the ITV Racing App apart from others is the exciting return of the iconic ITV7 competition allowing users an opportunity to win up to £100,000 by correctly selecting the winners in a series of races. This competitive element not only adds a thrilling aspect to race days but also encourages users to broaden their expertise by staying connected with the racing community. Stay tuned for a detailed exploration of these features in the subsequent sections of this article.
Exploring the ITV Racing App
Download and Register
The ITV Racing App is available for both iOS and Android devices. It can be downloaded from the App Store or Google Play, depending on the user's device. Upon downloading the app, users will need to complete a simple registration process to access its comprehensive features.
Features
The ITV Racing App comes with a variety of features designed to keep racing enthusiasts engaged and informed. Some key features include:
Racecards and Results: Users can access racecards and full results for all UK racing events.
Live Racing Clips: The app offers clips from all of ITV Racing's live races, ensuring users never miss any crucial moments.
Presenter Videos: Exclusive videos featuring ITV Racing presenters are available for users to gain valuable insights and behind-the-scenes looks.
News: Stay up-to-date with the latest racing news from around the country.
Quizzes and Polls: Test racing knowledge and participate in polls for a fun, interactive experience.
ITV7 competition: Users can join the ITV7 competition, a free horse racing game, and compete in private leagues with friends.
Interface and User Experience
The app boasts a user-friendly interface, making it easy for users to navigate and find relevant content. The app presents information in a visually appealing manner using tables, lists, and clear graphics.
Notifications and Alerts
The ITV Racing App keeps users notified about upcoming races, the latest news, and important events. Timely alerts provide live results, ensuring users are always in the loop when it comes to their favourite races and competitions.
In-Depth Features of ITV Racing App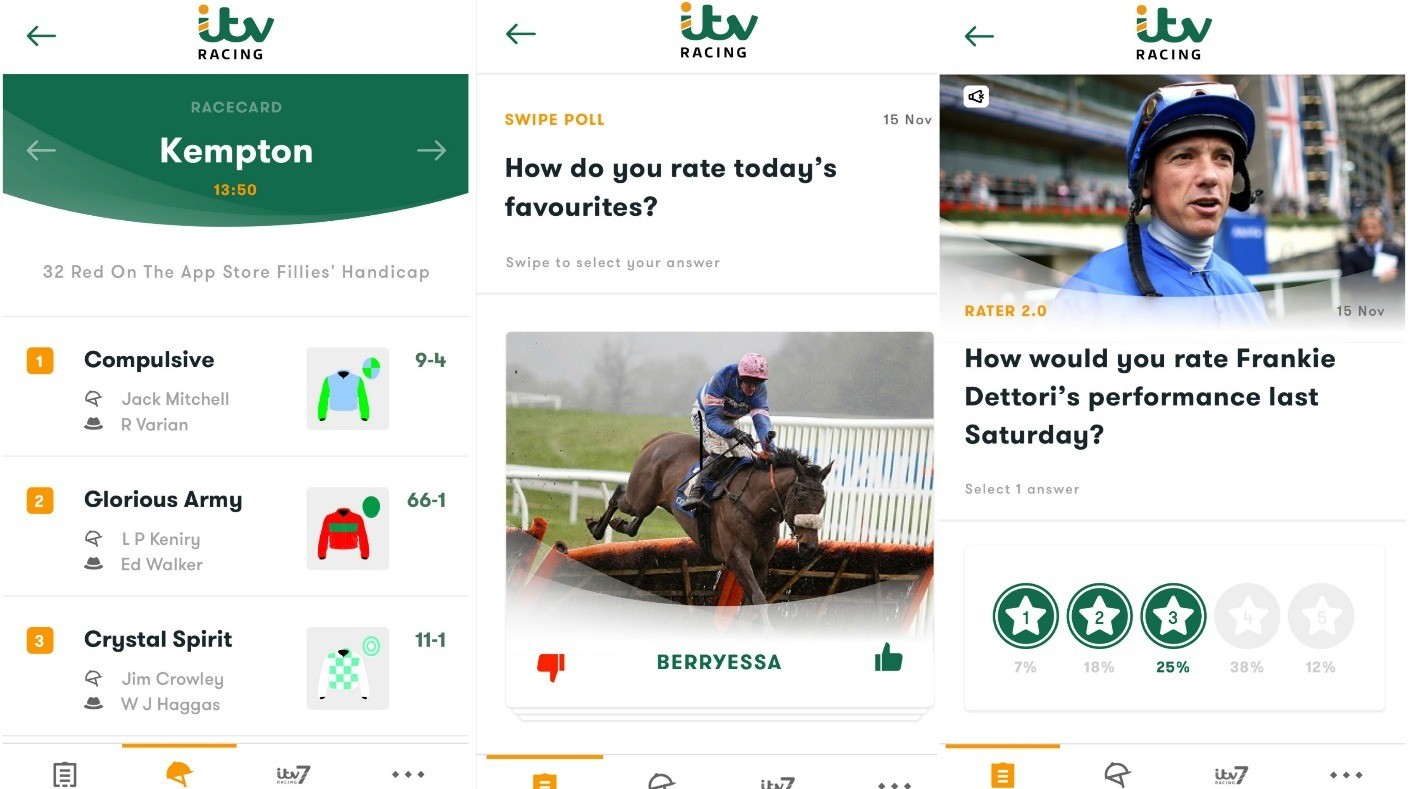 Live Races and Clips
The ITV Racing app offers a fantastic opportunity for racing enthusiasts to get closer to the action on race days. It brings live races directly to your device, ensuring you never miss a moment of the excitement. Additionally, the app provides clips from all previous races aired on ITV Racing, so users can catch up or re-live their favourite moments at any time.
Racecards and Results
Stay informed on every race happening in the UK with the ITV Racing app's racecards and results feature. You'll have access to complete racecards for the day's events, including horse, jockey, and trainer information. When the races are over, users can quickly check the results and dive into detailed post-race analysis.
News and Exclusive Videos
The app is not only a hub for live races but also a one-stop location for all the latest racing news. It offers updates from the world of horse racing and access to exclusive videos featuring ITV Racing presenters, so users can stay up-to-date with what is happening behind the scenes.
Polls, Quizzes, and Votes
To keep the experience engaging and interactive, the ITV Racing app comes with polls, quizzes, and votes. Test your knowledge with fiendish quizzes, share your thoughts on topical issues through polls, and even participate in voting on various aspects of the racing world.
Shop Sections
The ITV Racing app also features shop sections, allowing users to browse and purchase items related to racing. Whether you are looking for memorabilia, clothing, or accessories, the stores within the app make it easy to find what you need without the hassle of searching elsewhere.
In conclusion, the ITV Racing app is a comprehensive and user-friendly platform for racing enthusiasts. The variety of features it offers makes it a must-have app for keeping up with the latest news, enjoying live races, and testing your racing knowledge all in one convenient location.
ITV7 Competition – A Closer Look
Understanding ITV7
The ITV7 competition is a free horse racing contest available through the ITV Racing App. It offers the chance for participants to win a hefty cash prize by predicting the winners of seven selected races. This competition runs alongside the ITV Racing coverage, making it an exciting and engaging way for racing enthusiasts to test their knowledge and intuition.
Joining the Competition
To join the ITV7 competition, simply download the free ITV Racing App, available for both iOS and Android devices. Once installed, register for a free ITV7 account, or log in with an existing Sky Games account. The competition is open to all users, providing an equal opportunity to win the grand prize. Participating in the ITV7 competition is as easy as selecting the seven winning horses from the chosen races and submitting your choices through the app.
ITV7 Prize Competition
The main draw of the ITV7 competition is the fantastic cash prize on offer for correctly predicting all seven winners. Although the exact amount may vary, the prize can often reach up to £100,000. In addition to the primary reward, the ITV7 competition also features live results and leaderboards, allowing participants to compare their performance with others. For those looking to add an extra layer of friendly rivalry, the app offers private leagues for challenging friends.
By combining an intuitive design with the thrill of predicting race winners, the ITV7 competition presents an exciting and engaging way for racing fans to get more involved with their favourite sport.
The ITV Racing App on Different Platforms
App on iOS
The ITV Racing app is available for iOS users and can be downloaded on devices such as iPhones and iPads. The app requires iOS 9.1 or later versions to efficiently run on the device. It is suggested that users update their operating software if they are using iOS 9 or below. The app offers a seamless experience to horse racing enthusiasts and provides the latest news, videos, quizzes, and polls. The user-friendly interface makes it easy to navigate, allowing users to stay up to date on all the action on the course.
App on Android
For Android users, the ITV Racing app is compatible with devices running on Android 4.4 and later versions. It can be found on the Google Play Store, and downloading the app grants users access to exclusive content and features. ITV Racing's official app connects users closely to the action on race days. With racecards and results available for all UK racing, spectators never miss a moment. The app also includes clips from live races, engaging quizzes, and polls to entertain users.
In summary, the ITV Racing app is a great resource for horse racing enthusiasts on both iOS and Android platforms. Whether on an iPhone, iPad, or Android device, users can enjoy exclusive features and content that keep them in the heart of the action. Remember to have your devices updated to the required versions for an optimal experience.
Review and Ratings of the ITV Racing App
Users' Reviews
Many users of the ITV Racing app have found it to be an excellent companion for following horse racing events. They enjoy the ability to watch clips from live races, access exclusive videos and catch up on the latest racing news. The app offers a user-friendly interface and is available for iPhone, iPad, and iPod touch devices. People appreciate the convenience of having everything they need in one place.
Some players have provided feedback regarding the ITV7 competition, which is available on the app. The free game lets users make their own choices and see live updates on leaderboards and even create private leagues to challenge friends. It has been described as a terrific tool providing additional entertainment and interaction with horse racing fans.
Ratings
The ITV Racing app has received a rating of 4.3 out of 5 stars on the Apple App Store. Users have praised the app's design, functionality, and content – making it a popular choice among racing enthusiasts. On the other hand, there have been minor suggestions for improvement, such as adding more features or resolving minor glitches.
To summarise, the ITV Racing app has received mainly positive feedback from its users, with the majority highlighting its user-friendly interface and engaging content. From watching live races and accessing exclusive videos to participating in the ITV7 competition, this app offers an enjoyable experience for horse racing fans.
Frequently Asked Questions
What are the main features of the ITV Racing app?
The ITV Racing app is designed to bring users closer to the action on race days. With this app, users can watch clips from all of ITV Racing's live races, access exclusive videos, and receive the latest racing news. Additionally, the app allows users to participate in the popular ITV7 competition, where they can try their hand at winning prizes by predicting race outcomes.
How do I participate in ITV7 on the app?
To participate in the ITV7 competition on the ITV Racing app, you must have an account with one of the following: Sky Bet, Sky Games, Super 6, Fantasy Football, or Sporting Life Pick 7. Once you're logged in, you can submit your predictions for the seven selected races. The ITV7 competition runs more frequently than other similar contests, giving users plenty of opportunities to participate and win.
Is the ITV Racing app free to download?
Yes, the ITV Racing app is free to download for both iPhone and iPad devices. Users can enjoy all of the app's features, including watching clips and participating in the ITV7 competition, without any additional costs.
Can I watch live races on the ITV Racing app?
While the ITV Racing app focuses on providing users with clips from live races and exclusive videos, it currently doesn't offer the option to watch full live races. However, users can stay updated on race days and engage with the racing community through the app's features and interactive content.