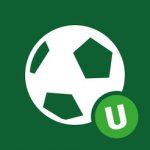 Unibet is seen to be one of the biggest online gambling companies throughout Europe, boasting in excess of over 10 million registered members worldwide. It is regulated with licenses in the UK, Italy, France, and Australia to name but a few.
Unibet bonus
Registration –  Registering is very simple all you need to do is click the banner directly above this paragraph, which will take you to the registration page for Unibet.
Unibet Review
The app is excellent for all sports and has undergone a complete transformation in the last couple of years. If you are after horse racing, simply scroll down the screen and select horse racing, this will provide you with a list of the next available races. If you look above the racecards, you'll see the options, today, watch and all races, if you click on today you'll see all of the available racecards for today.
Placing a bet on horse racing is fairly straightforward. All you need to do is select horse racing from the menu, then select the race card followed by the time of the race, and then select your chosen horse by selecting the odds located beside the horse.
When you select the horse it automatically gets added to your bet slip which can be found at the very bottom of the screen, tap on the bet slip and add the amount you want to bet with and hit place bet, it's that simple. If you look below you'll see the steps you need to take to place a bet on horse racing, this will simplify the betting process.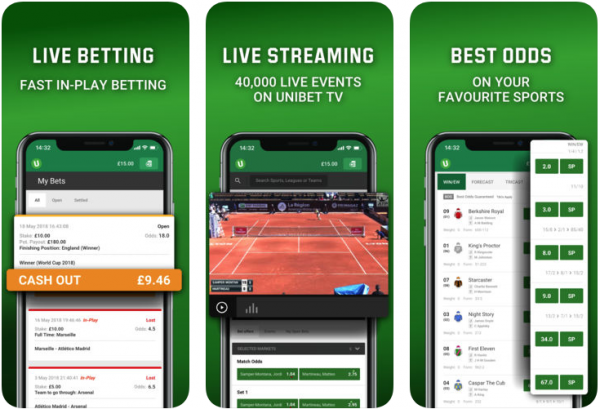 Tracking your bets  – Recently Unibet has added a comprehensive betting history to rival other apps. You can see all your bets as well as information on the score or performance of each leg of your accumulators. This is great for tracking your bets from our free racing tips – Which you can find here.
Simply select your account, this will reveal a dropdown menu to the right, scroll down and select gaming activity then tap on my bets, there you will find any open or settled bets.
Can I watch Live races on my mobile device? Yes! You can watch live racing on your mobile device, the only rule is, if you want to watch live races you must have bet at least £1 or more on the race you want to watch.
Does Unibet offer virtual sports? No, but that's not a bad thing in our opinion. Who wants to bet on the winner of an imaginary race? Not us!
Signing up with Unibet is a quick and simple process – To register your account click on the link below, registering only takes about a minute so you can be up and running in no time at all.
How good is their customer service? We have found the customer service to be very helpful. To contact them via the app, you'll need to click on the profile tab situated at the top on the right, followed by contact us. There you'll find all of the information on how to get in touch with them, and also if you look at the very top of the app you will see "view all FAQs" if you are struggling to do something or having any issues there are lots of helpful answers in there.
Depositing money into your account – You'll find depositing funds into your account is very easy and safe. To deposit funds log in to your account and go to your account profile (top right), choose deposit funds then select your method of payment, enter your details if you haven't already done so, that's it you're ready to go. In most cases, deposits are instant so you can bet almost straightaway.
Withdrawing funds from your account – Withdrawing money out of your account is equally as easy as it is depositing funds. Once again, make sure you are logged in to your account, go to your account profile, then select withdraw funds and choose your method of withdrawal. Unibet deals with your withdrawal request straightaway but because of banking procedures, you will receive the amount withdrawn within 3-5 working days.
Additional Unibet App Downloads
Additional services offered by Unibet registered members include the following;
Unibet Live Casino: Roulette, Blackjack, Baccarat and Casino Hold'em
Unibet Casino: Spin City
Unibet Poker App
Unibet Casino: Slots, Roulette and Blackjack
Our Conclusion: Since a slow start the Unibet app has now sped away into the final furlong to be worthy of 3rd place in our top 5 betting apps. It's an excellent app that focuses on football and racing.