Nicky Henderson, the legendary horse trainer, is feeling immense pressure as he plots the future of Constitution Hill, a seemingly miraculous horse whose next appearances on the track will transfix National Hunt racing. Constitution Hill has built a winning aura which could match and even surpass the hold that Sprinter Sacre, another of Henderson's great horses, had on the racing public 10 years ago.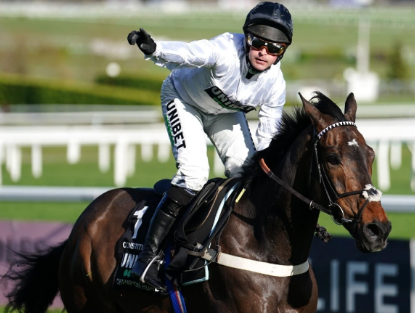 Constitution Hill has only had eight races over hurdles, yet he has already won at Cheltenham Festival twice. In 2022, he won his first Cheltenham Festival race by 22 lengths in the Supreme Novice Hurdle. At the Festival last year, he again produced the standout performance in the Champion Hurdle.
Constitution Hill is known for his serene temperament and his ability to fly over hurdles. He is so serene that he was dozing when Henderson checked on him on the morning of the Champion Hurdle. "He's always sleeping. He's got this ridiculous, wonderful temperament and his greatest asset is his mind. Nothing bothers him. He works, eats, sleeps. Works, eats, sleeps. The same routine day in, day out."
Henderson is considering whether to school Constitution Hill over fences, which could replicate the feat of his first great horse, See You Then, who won three consecutive Champion Hurdles from 1985 to 1987. However, true greatness could be measured if Constitution Hill eventually becomes only the second horse after Dawn Run to win the Champion Hurdle and the Cheltenham Gold Cup.
Henderson has trained outstanding horses of contrasting character from See You Then to Altior. He has won all the significant races apart from the Grand National. The glory of his 73 Cheltenham Festival winners is balanced by the raw pain of losing a horse as cherished as Simonsig on the track. Even the majesty of Sprinter Sacre was shaded by a heart condition which stopped him racing at his peak. But, in one of the great training performances, Henderson nurtured Sprinter back to fitness and, three years after he first won the Champion Chase, he overcame all doubts to win it again in 2016.
Constitution Hill is owned by Michael Buckley and ridden by Nico De Boinville. Henderson, Buckley and De Boinville will announce their plans for the horse this week.