BetShare is all about the wisdom of our followers.
---
Have you got a hot tip, or a bit of insider information? Or perhaps you've conducted some analysis and come up with a system that can't fail? Maybe it's just your own thoughts on which horse/team/person to back.
---
Whichever, this is the place to share them with everyone else. It's what we're all about! #Sharesuccess.
---
What our followers say...
Since joining the BETSHARE community a year ago, I've won over £500 from tips I've been given by their Tipsters Jimmy Bet
Keep up the great work! I Love it chatovburley
The reason I keep gong back to the bookie smiling, and he keeps scowling back at me Terry Buffet
I've never won so much money on betting in my life. Whoever said it was a mug's game obviously didn't follow BETSHARE Barry Barnacle
WAYS TO GET INVOLVED
Follow @bet_share on Twitter
#ShareSuccess by tweeting your hot tips with #TwitterNAPs and #FootieNAPs
Email us to get your place on the TwitterNAPs & FootieNAPs table
Sit back and bask in the adulation of your peers
Prove your worth by joining our TwitterNAPs game
40000
Followers to date and counting
---
We're the UK's largest online tipping community thanks to our amazing tipsters
1How many followers do you have?
We currently have over 40k followers, and it's growing all the time
2Who follows you?
We have many followers who just love sharing their tips with other punters. Some of our followers are simply on the lookout for great tips, and are happy to #ShareSuccess when they win. Others just love our banter! But we'll be honest, mostly the first two.
3How often do you tweet?
We just LOVE helping you #beatthebookie and so we have a team of keen tweeters tweeting round the clock. Tweet us, and you can expect a reply within an hour or so. Tweet us something we don't like and it may be longer.
4How do I get involved?
Simply follow @bet_share on Twitter, and start Tweeting. Use the hashtags #TwitterNAPS and @FootieNAPS for best effect. And be sure to let us know when you win #ShareSuccess
5What's this TwitterNAPs & FootieNAPs of which you speak?
We came up with TwitterNAPs to separate the tipping wheat from the tipping chaff. Simply put, tipsters sign up for the TwitterNAPs and they are ranked on how successful their tips are. Tip successfully and they get points, tip stinkers and they get points taken from them. Monthly winners get hoisted shoulder high by their peers and carried round the parish. (Figuratively speaking). Look out for the tips of the tipsters that consistenly finish well on the Tipster Table - they know what they're talking about.
NAPs Explained
Looking for the best racing tips all in one place in an easy to understand and consistent format? You've come to the right place. TwitterNAPs is the place where tipster share their top three bets, every day, in the unique Bet Share format. You can use our bang up to date table to see which tipsters are on hot streaks and which are best avoided!
Our unique format means we are the home of the famous BetShare treble. Each month about 5-10 of the trebles tipped on these pages will come crashing in, with a whole load of tipster noise. Most are over 100/1 and the biggest shared ever was 1,800/1. Get on one today!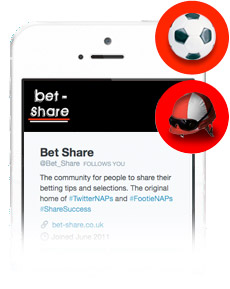 Divided into a NAP (safe bet of the day) NB (Next Best bet of the day) and IWAC (In With a Chance - an outsider with odds of 5/1 or greater). Use them individually, as a treble, or a mixture from different tipsters. Good luck, and remember to share your bets with us!
*FootieNAPs IWAC minimum is 2/1
The best racing & football tips all in one place
See which tipsters are on form and which to avoid
A range of betting formats to help you get the most from your bets
---