BetShare is all about the wisdom of our followers.
Have you got a hot tip, or a bit of insider information? Or perhaps you've conducted some analysis and come up with a system that can't fail? Maybe it's just your own thoughts on which horse/team/person to back.
Whichever, this is the place to share them with everyone else. It's what we're all about! #Sharesuccess.
What our followers say...
Followers to date and counting
We're the UK's largest online tipping community thanks to our amazing tipsters
Looking for the best racing tips all in one place in an easy to understand and consistent format? You've come to the right place. TwitterNAPs is the place where tipster share their top three bets, every day, in the unique Bet Share format. You can use our bang up to date table to see which tipsters are on hot streaks and which are best avoided!
Our unique format means we are the home of the famous BetShare treble. Each month about 5-10 of the trebles tipped on these pages will come crashing in, with a whole load of tipster noise. Most are over 100/1 and the biggest shared ever was 1,800/1. Get on one today!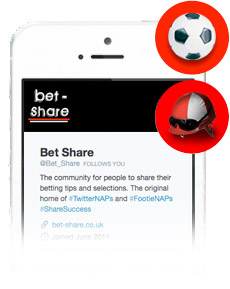 Divided into a NAP (safe bet of the day) NB (Next Best bet of the day) and IWAC (In With a Chance – an outsider with odds of 5/1 or greater). Use them individually, as a treble, or a mixture from different tipsters. Good luck, and remember to share your bets with us!
*FootieNAPs IWAC minimum is 2/1
Want to join the BetShare party?
So you want to get involved? Think your tipping skills are a match for anyone? Think you can handle the pressure? Read on...