We've been asked by a few people now through our social sites how to Edge your Each way accumulators with Betfair. Edging each way accumulators is a brand new feature offered just in time for Cheltenham 2017 and has been announced that it will be available across the festival. Read all about edging each way accumulators, in terms of what this actually is, as well as how to activate this feature within the Betfair app.

What is edging each way accumulators
In a nutshell, Edging each way accumulators allows you to change the amount of qualifying places for each selection within your accumulator. The lower the places you select, the better the odds become. This gives you far greater control over the risk you are willing to take.
Let's take an example of a time where you have spotted a horse that you fancy to finish in the top two, but standard each way terms are for top three. by edging your each way accumulator you could knock the each way terms down to two and get a better price.
Alternatively you could lower the risk on a selection by increasing the amount of places. This will then have a negative impact on the odds the bet would return.
How to edge each way accumulators.
The first thing is to make sure you are registered with Betfair. Edging each way accumulators is both possible from your desktop and mobile devices but before you can use the Betfair feature, you must be a registered Betfair customer. If you are not a Betfair customer, then you can register for an account by clicking or tapping below.
REGISTER FOR A BETFAIR ACCOUNT HERE
If you are a member then you need to head to betfair from your phone/tablet/laptop/computer. (You can also achieve this from the link above). Now sign in and make your selections. Once you have made your selections, head over to your betslip. It should look something like the image below (if you are using your phone).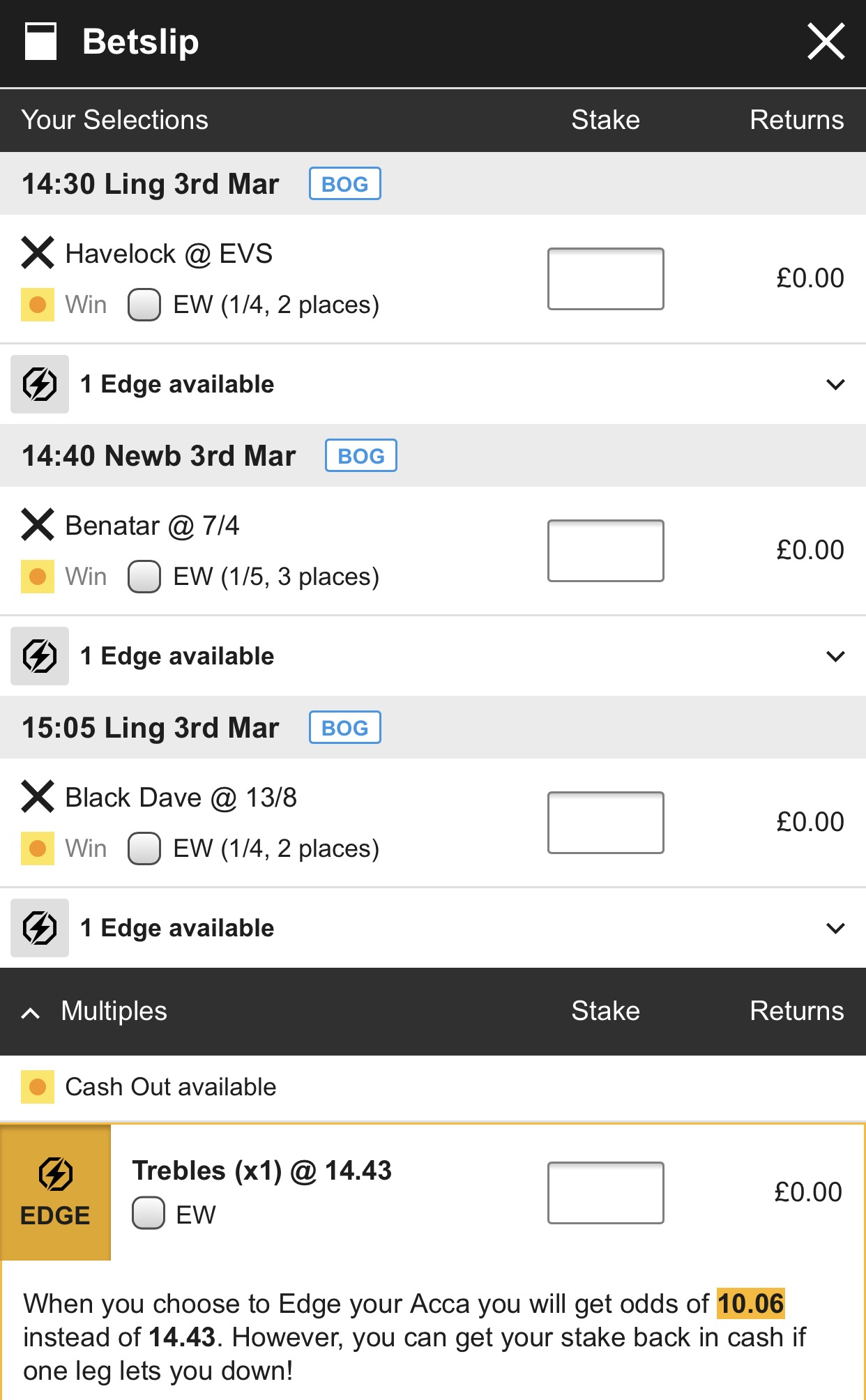 The example I have used here is a treble. I can see what standard each way terms are for each selection in brackets and can select standard each way terms by tapping the EW box, whereby a tick will then show to confirm the selection. The Each Way Edge option will then appear underneath the relevant selection as shown below.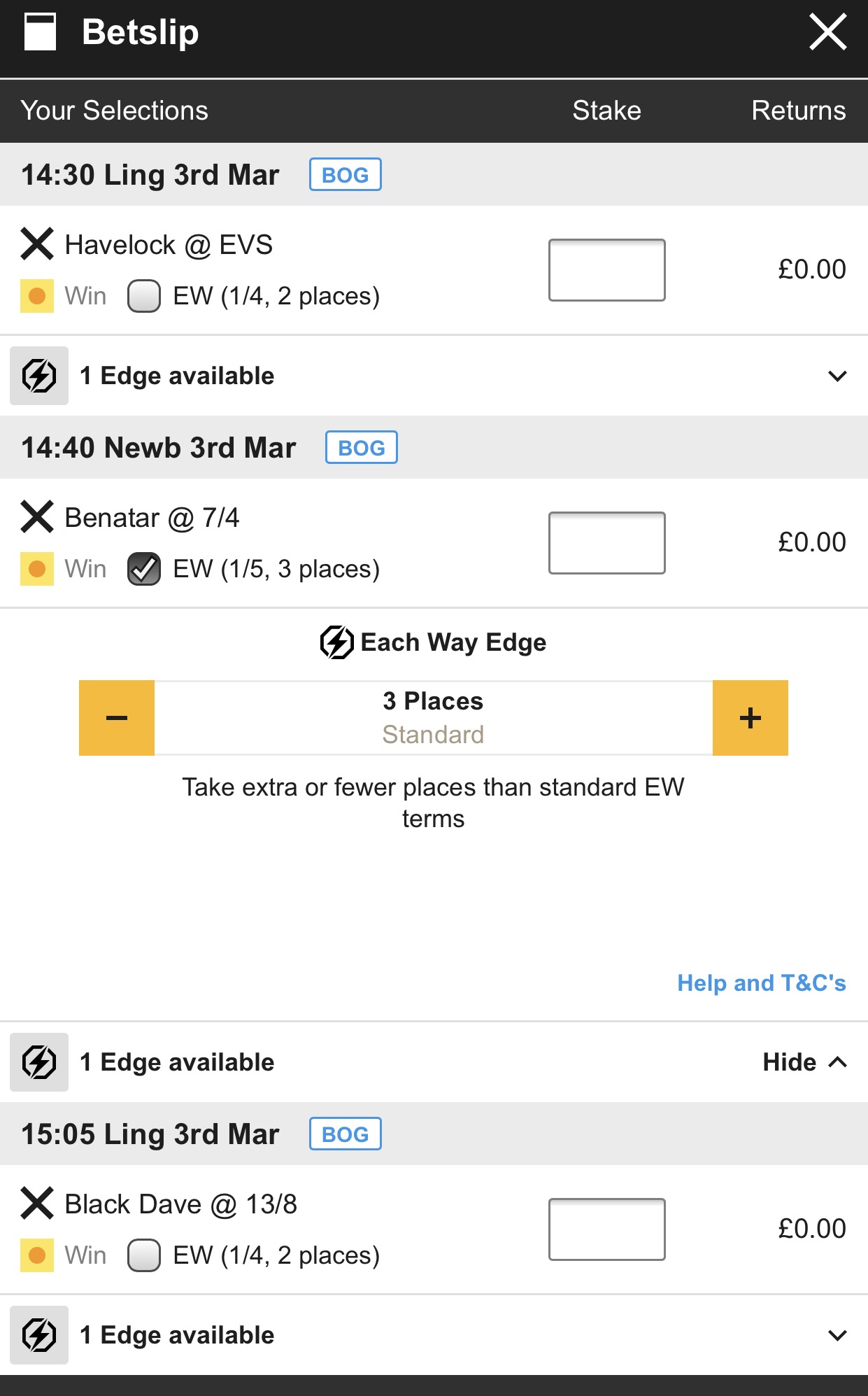 You can then use the – and + buttons in yellow to modify the amount of each way places you would like to select. the odds shown will change straight away giving you a clear indication of how each change effects the price. Changes in information are easily identified as will be highlighted in yellow. You can see this from the image below.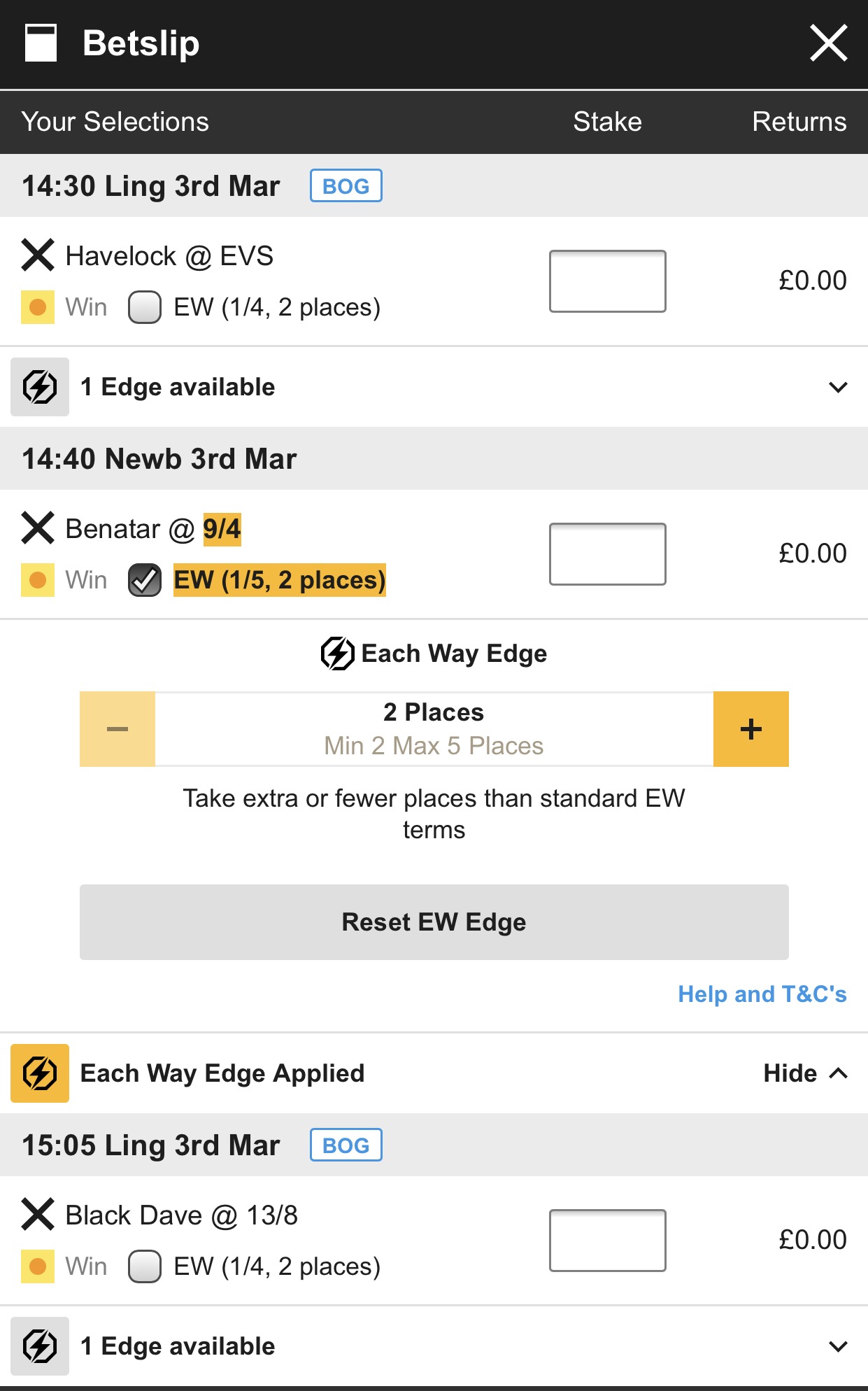 Once you are happy with your selection change, all you need to do is tap on the hide option in the bottom right of your selection to tidy your screen back up. You will then plainly see the Each Way Edge Applied at the bottom of your relevant selection to let you know the change has been confirmed. this is visible from the image below.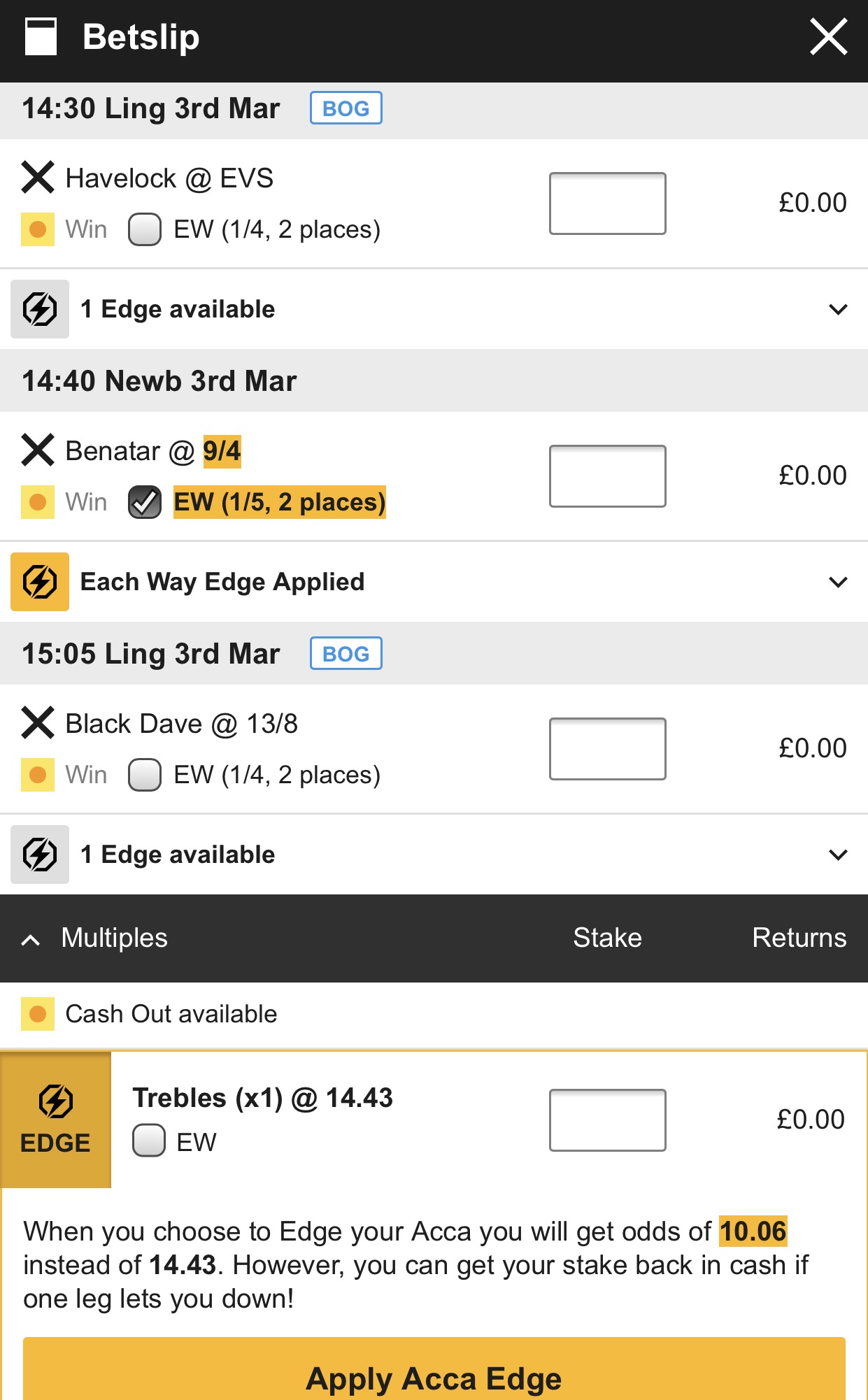 You are now free to modify other selections in your bet slip that have the edge option available. You can still also edge your accumulator even further (visible in the above image at the bottom) by taking slightly less odds for an insurance net. This provides you with your money back should one leg of your accumulator let you down. In the example in the images this insurance would change my odds from 14.43 down to 10.06.
Summary
Edging each way accumulators definitely provides you with more choosing power over your bets, but sadly does not appear to be open to all races. All popular races seem to be covered, but it does appear to be at Betfair's discretion for now on which races this appears on. The good news however is that from our testing more races are covered than not. Also the fact this feature has been confirmed as being present at the Cheltenham Festival certainly has us all here chomping at the bit. Try it out and let us know what you think.