The Bundesliga is set to return on Saturday 16th May, with nine matches spread across the weekend. The majority of which, being played on the Saturday. Bookmakers already have their betting markets available for each match. We have been looking over the prices to see if there is any value that could possibly be snapped up. Here are the fixtures set to take place;
Augsburg v Wolfsburg 14:30
Borussia Dortmund v Schalke 14:30
Fortuna Dusseldorf v Paderborn 14:30
Leipzig v Freiburg 14:30
Hoffenheim v Hertha Berlin 14:30
Eintracht Frankfurt v Borussia M'gladbach 17:30
Cologne v Mainz 14:30
Union Berlin v Bayern Munich 17:00
Werder Bremen v Bayer Leverkusen 19:30
How to watch and bet on the matches
Bet365 is our choice of bookmakers here and are a solid choice in our best betting apps list. Not only do they have an expansive range of markets, but they are live streaming all the action too! To use the Live Streaming service you will need to be logged in and have a funded account or to have placed a bet in the last 24 hours. Any fixture/event on the bet365 website which has the Play or Video icon next to it is scheduled to be shown via Live Streaming.
The live streaming service is only available in certain regions. Excluded countries include Austria, Germany, Liechtenstein, Luxembourg and Switzerland.
Therefore, you can bet and watch at the same time, all from the one app or website, with bet365.
You can head straight there from the banner below. Pre-registered users can go ahead and log straight in. If you don't have an account you can follow the registration process from the banner below, which literally takes a couple of minutes.
BT Sport have the televised rights to the Bundesliga in the UK and have announced they will be airing some of the matches. However at this stage they have not released exactly which matches will be shown.
How are the odds shaping up?
To get this out early we checked the odds on Tuesday 12th May at 13:00. Here is how they stacked up.
Augsburg win 3.10
Draw 3.40
Wolfsburg win 2.25
Borussia Dortmund win 1.53
Draw 4.33
Schalke win 5.50
Fortuna Dusseldorf win 2.10
Draw 3.60
Paderborn win 3.25
Leipzig win 1.30
Draw 5.00
Freiburg win 10.00
Hoffenheim win 2.00
Draw 3.60
Hertha Berlin win 3.50
Frankfurt win 2.90
Draw 3.60
M'gladbach win 2.25
Cologne win 1.95
Draw 3.60
Mainz win 3.60
Union Berlin win 13.00
Draw 6.50
Bayern Munich win 1.20
Werder Bremen win 4.75
Draw 3.80
Bayer Leverkusen win 1.70
We have also provided this snapshot of odds so you can compare it to the current prices. This gives a good indicator in to which team or selection is proving to be popular or not.
As news comes in and circumstances become more apparent, odds will inevitably swing one way or the other. Comparing past odds and understanding the relevant swing can most certainly help in making smarter picks.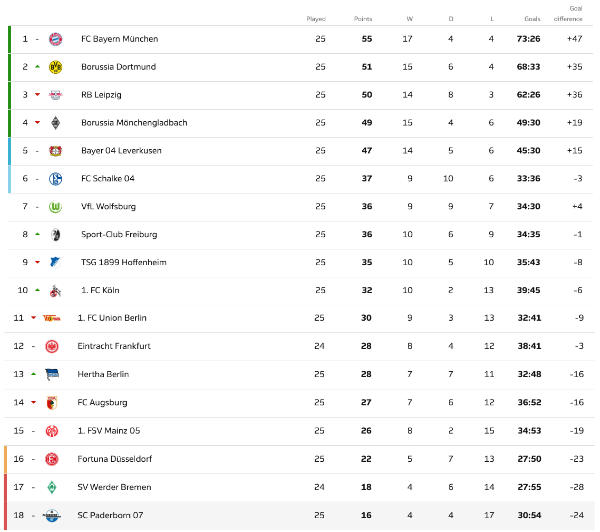 These games are happening after a long break, which makes it fairly difficult to confidently predict the outcome. Past form statistics can pretty much be thrown out of the window and new rulings will take players a little time to adjust to. Rustiness and weariness are both bound to be influencing factors at the very start of the first matches back. Therefore, a low scoring first half may well be a common factor amongst the first lot of matches.
The first half under goals market look attractive to me purely for those reasons, although there's not fantastic value to be had. The under 0.5 first half goals market poses too much of a risk to take a punt on, in my opinion. I believe under 1.5/2.5 goals market is where the sensible picks lie. However, expected odds are around the 1.50 and 1.10 mark respectively.
Goal scorer and player card markets hold no interest to me in the early lead-up to the fixtures. With so much uncertainty on fitness levels, it is best to wait until the team sheets are submitted before placing bets on markets that involve individual players.
As we are in to the back end of the season those teams that are likely to be the more prepared are the ones who still have something to fight for. As always at this stage teams are either scrapping for survival or doggedly battling their way to the top.
Nobody's fate is yet to be cemented so there's still plenty to play for. Therefore, there well be more of a sharper edge to those teams fighting than those who find themselves wedged in the middle of the table.
These factors have all been major contributing factors to my early picks on the outright markets. There are of course plenty more, such as head to head performances, news reports that could affect team morale, home/away form, team news, player injuries etc. Here are my early picks
Wolfsburg to beat Augsburg
Wolfsburg hold the better head to head record here, have the better league positioning and still very much have something to fight for. They find themselves in 7th place one point behind automatic entry in to the Europa.
The team currently in 6th place is Schalke, who are up against a very tough fixture away at Borussia Dortmund at the same time. This is a very good opportunity for Wolfsburg to place themselves in the top 6 and one I don't foresee them squandering.
Dortmund to Draw with Schalke
A bold choice but odds I very much see value in under the current situation. Schalke have been somewhat of a bogey team for Dortmund in the past, having only won one of their last eight head to head matches. As previously mentioned, Schalke are still fighting for positions just as much as Dortmund, even if Dortmund are chasing the actual league leaders in Bayern Munich.
This and the fact there will be no physical fan support sending fear in to the away team, may well lead them to come out here confident of walking away with at least a point. This is aided further by Dortmund's long list of injury woes.
Reus, Witsel, and Can are all sidelined, Sancho is not fully fit after just coming back from injury and questions marks surround the likes of Gotze, Schmelzer and Hakimi, after receiving knocks in training. A draw is very much on the cards when looking at the game from this perspective.
Fortuna Dusseldorf to draw with Paderborn
A game where both teams will be fighting tooth and nail to clamber away from the foot of the table. In all honesty, a hard one to predict. Paderborn hold the better head to head record. However, Dusseldorf have more of a solid record away from home against Paderborn's home record. Paderborn see themselves in a dire situation if they do not pick up three points here and as they beat Dusseldorf 2-0 at home, they must see this as a plausible outcome.
That said, Paderborn are at the very bottom of the table for a reason. They have been very poor over the course of the season and Dussledorf seem the more likely of the two to dig themselves out of relegation. One thing is for certain this game won't be taken lightly by either team and I don't expect either team to back down. I wouldn't be at all surprised if the two were to walk away at the final whistle deadlocked after a hard fought game.
Leipzig will be looking to keep their title hopes alive by bagging three points in this fixture. That is how I see the match panning out. Yes, Freiburg find themselves in a very similar situation to Wolfsburg, but I see the quality and home advantage of Leipzig shining through.
Leipzig are known to be a very tactical team, who make use of the whole layout of their own pitch to maintain a distinct advantage in their home fixtures. This has been evidential from their home form throughout the season. Odds aren't fantastic for the Leipzig win, but the only outcome I am confident in at this stage.
Hoffenheim to beat Hertha Berlin
This fixture is all about the battle of the bang average. However, Hoffenheim will be walking in to this fixture full of confidence. Not only do they possess the more superior league standing, they also have an impressive head to head record against their counterparts here.
Hoffenheim are undefeated against Hertha Berlin from their last eight meetings and are on a two game head to head win streak. Most games played at home for Hoffenheim seem to end up in a win, whereas games away have frequently led to a draw.
For these reasons I have confidence in the home win and at odds around evens, I see good value in the selection.
Eintract Frankfurt to beat Borussia M'gladbach
I'm backing the slight outsiders in this match in Eintracht Frankfurt. They have been fairly disappointing this season and find themselves much lower down the league than they did the season before. This could mainly be down to juggling Europa league commitments along with the League. Not an easy task to achieve, especially if the team is relatively inexperienced in doing so.
However, this break may well have done the home team here good. Time to recuperate and refocus may well have been needed and this break may well have done that for them. M'gladbach have had an unbelievable season and find themselves fighting at the top of the table. However Frankfurt are one of those sides that seem to clash with M'gladbach's style of play, causing them to fail to see a when away at Frankfurt from their last three attempts.
Frankfurt are also making a name for being giant beaters. They may not perform the best away from home or against average teams, but put a big name in front of them and they play out of their skin. Despite being 12th in the league, Frankfurt have beaten at home Leipzig (both in league and cup – 2-0 and 3-1), Bayern Munich (5-1), and Bayer Leverkusen (3-0). They also drew to Borussia Dortmund (2-2).
This leads me to believe they are more than capable of pulling off another big win here.
A game that will mean a lot for Mainz than it will for Cologne. Mainz find themselves just above the danger positions, whereas Cologne are embedded slap bang in the middle of the table at 10th.
Mainz have shown a tendency to be play extremely poor against top half teams but very effectively against mid table and lower. Especially towards the period just before the league shut down.
Cologne have very little to play for so can see them easing themselves back in to the first match with a hint of complacency. Something that I am hoping Mainz will pounce upon.
Bayern Munich to beat Union Berlin
Probably one of the easiest matches to pick as far as statistics and reputation are concerned. One of the few fixtures from the opening games where I anticipate a fair few goals going in. There's not much head to head history between the two teams, but Bayern undoubtedly hold the advantage here in terms of quality, despite being the away side.
The Munich side are renowned for being well disciplined and the coaches will surely wanting the chosen team to pull off an impressive display in their first game back. I 'm not expecting Bayern Munich to be losing ground on their title hopes in this fixture.
Odds are short on the straight outright market so I am looking for added value from the combo-bet of Munich to win and over 3.5 goals. This brings the bet well above evens.
Bayer Leverkusen to beat Hertha Berlin
Two teams fighting here – Leverkusen for glory and Hertha Berlin for survival. Leverkusen find themselves 5th in the league, whereas Hertha Berlin are second from bottom.
I'm seeing the team in form outwitting the team in desperation. Leverkusen hold a strong away record in the league. Compare that Hertha Berlin who have nothing impressive at all to boast about this season. They have the worst goal difference in the entire league. This should be a bread and butter win for Leverkusen.
Although Leverkusen have a lot of wins away from home, they do also have a worrying trend of conceding on the road. Therefore the Leverkusen to win and both teams to score option is also looking like a credible selection. Good odds too at around 3.25.
That ends my round of early predictions. I hope this has been useful to you, giving you dome clear direction in approaching the betting markets for yourself for the weekend ahead. Do you agree or disagree with my picks. Feel free to let us know on twitter. We also love to see you very own bets and share them with our followers. Feel free to send them in to us if you would like them sharing on our twitter page.