Thanks to the developments made in online gambling technology over the past decade or two, online betting and wagering activities have improved considerably. Today's iGaming websites are light-years ahead of their predecessors, with advancements giving rise to a new format of betting: in-play or live betting.
This method of being able to place wagers on events once already in progress has revolutionised sports betting for both the punters and the entire gambling industry, opening a whole new array of betting opportunities that otherwise would be unavailable with traditional betting formats.
If you want to find out more about this exciting way to place bets online, keep reading!
The Basics of Live Betting
As we touched on above, live betting involves placing wagers on events as they're taking place. You make your bet based on what you think will be the outcome of a match or sporting event, and if you're correct with your choice, you'll receive a payout. But if you're not, you lose your initial stake. In many ways, live betting is the same as traditional sports betting methods — you can choose from a variety of different betting markets and numerous wagers. However, there are two fundamental differences: a greater variance of wagers on offer and consistently changing odds.
Live betting encompasses the most popular sports, such as football, boxing, horse racing, golf and tennis, right the way through to more specialised ones like motor racing, snooker, darts and mixed martial arts. Within every sport, there will be a variety of events and occurrences to bet on with the flexibility of live betting, meaning that punters can place wagers on all manner of outcomes. In the case of a football match, for example, you can place bets on things like the next team to score, the next player to score and the team to win. However, under live-betting formats, punters can also wager on things like how long a game will be, whether it will end with a goal or save, etc. In contrast, with traditional betting methods, you can only wager on things like the player to score a goal first, with the market settling if that player scores.
Live betting also considers consistently changing odds determined by occurrences during the sports match or event. In fact, it's one of the biggest advantages of live betting over traditional methods. Most reputable betting sites will work with specialists to watch and analyse each event as and when they take place, making continuous adjustments to the odds they have on offer. Using a tennis match as an example, if one player repeatedly misses their serve, the betting site will more than likely increase the odds of them winning their next game and even change the odds for the result.
Where to Place Bets
If you've placed any wager online before, then live betting isn't too unfamiliar. As always, when it comes to online gambling, you should only sign up for reputable and correctly licensed sites and mobile apps first and foremost. A few years ago, live betting wasn't in as high demand as it is now, so consequently, there are a lot more platforms and providers from which to choose. The experience of using a provider will vary from platform to platform, but you should consider things like the quality and usability of the site itself, the variety of wagers on offer and the amount and types of sporting events covered.
Another option will be to place bets via a reputable online gambling platform. Trusted operators — like PokerStars, for example — provide a range of sports wagering opportunities, including in-play betting on certain sports and events. That can be an excellent way to get started with live sports betting, especially if you already enjoy playing casino games or poker online since a single account with these providers will give you access to their full portfolio of services.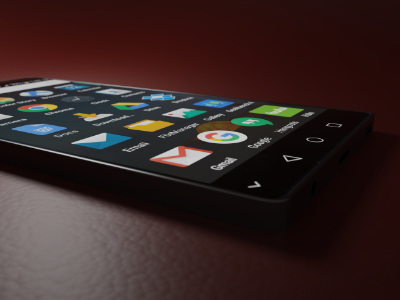 You can even place live bets on the go using mobile betting apps
Photo by WayX / Public Domain
One Last Thing
Just like with traditional sports betting, you can also incorporate several different strategies when making in-play or live bets, including hedging your existing bets, backing favourites on losing streaks, betting against the momentum and any arbitrage opportunities available.